What if you could have your eLearning completely designed and built for you with the highest quality interactive design within your tight project deadline and 3x your return on investment?
Done for you with your return on investment goals and your Learners' success in mind. You no longer need to stress about how to design your eLearning, micro-learning, or online course modules, hoping they will create value for your Learners and your business.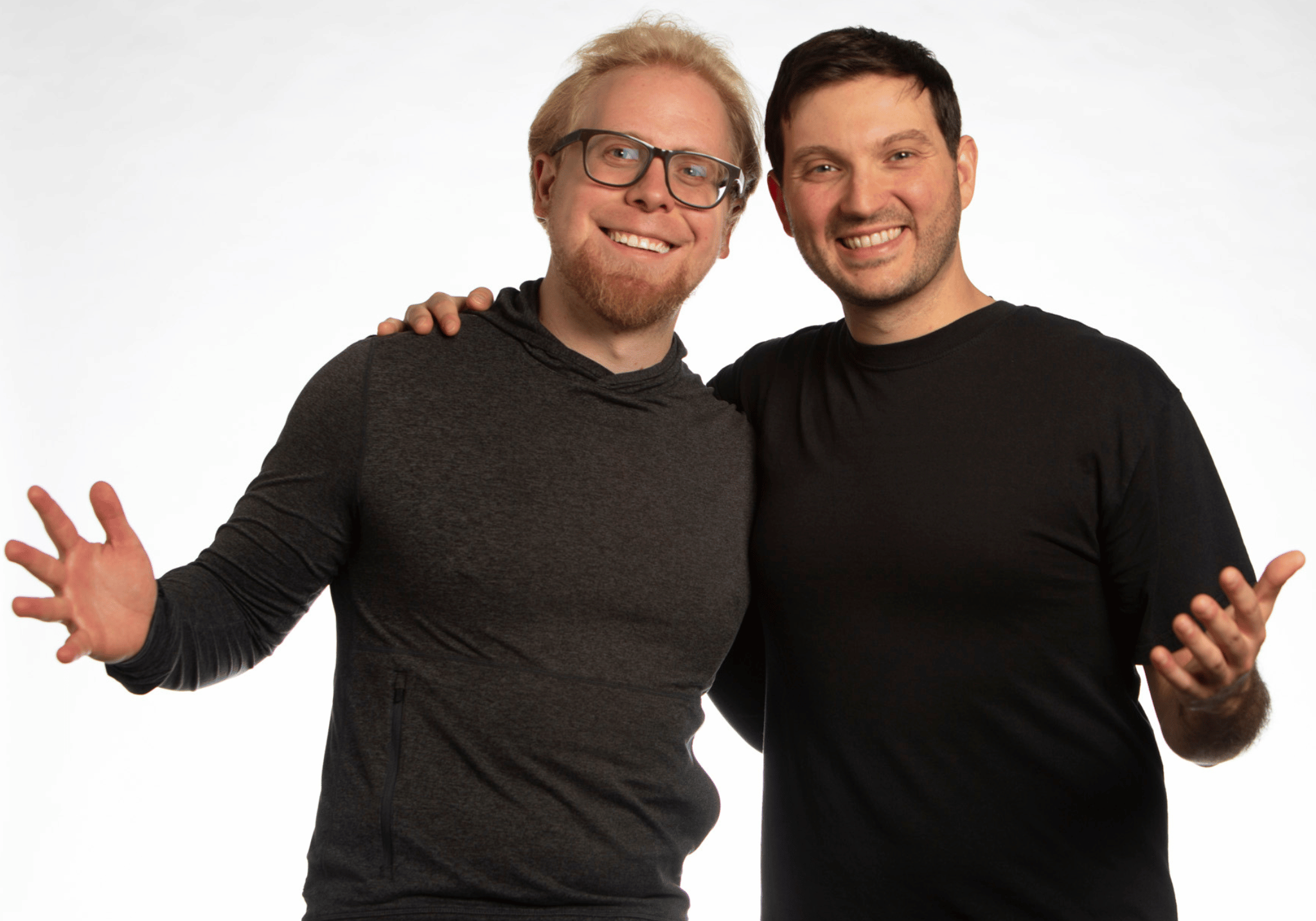 Hi, we are the Co-Founders of eLearning Partners

™

, Jonny and Hector
We stumbled into eLearning almost a decade ago when taking our first eLearning programs. And the Learner experience was horrendous... Unlike the interactive eLearning we design for our clients today, they were just a combination of text and check-on learnings we had to consume because we had to, not because we wanted to (and we fell asleep in the process). It was at that point we said that even if the eLearning you are building is mandatory training, your Learners should never have to suffer through it. Fast forward, and we are not only ebooks authors on this very subject, we share our decade of knowledge designing eLearning and micro-learning programs on our YouTube channel (@e-learningpartners) and sell our own online course (eLearning Simplified Academy). We not only talk the talk, we walk the walk of eLearning Instructional Design. So if you are ready to serve your Learners what they really want, let us know what you want us to design for you below.
Click To Submit eLearning Request
No one wants to invest time or money designing eLearning that puts their Learners to sleep...
Are you overwhelmed by the process of designing eLearning that actually achieves your goals and the learning outcomes your Learners want? Are you as tired of investing time and money trying to figure out how to not build just another text-only eLearning program with no personality? Are you ready for someone who has been (and still is) in your shoes, to take the design and development of your eLearning off your plate, so you can stop stressing about it and get back to sleeping well at night? Do you simply not even know where or how to even start organizing your knowledge into online learning?
We hear you loud and clear!
We are lifelong Learners who have become teachers, and instructional designers. We didn't study instructional design. And we don't have degrees in education. But we have been developing online courses and eLearning programs for almost a decade with one core strategy and belief.
The only thing that really matters is what your Learners think. It doesn't matter how fancy your learning management system is. And it doesn't matter what authoring tool you use to design your eLearning program. We have seen too many companies obsess over these two things.
Heck, when we built our first online course for ourselves to sell, we spent 90% of our time focusing on what technology to use and how to integrate it together. If you have been following us long enough you probably know exactly how that story ended.
To sum it up, our first online course failed miserably, and the fancy technology we used never saw the light of day.
So what is the point of having fancy technology if your Learners never see it, or log in once and never again?
That's right, there is no point.
The real "secret" has nothing to do with learning management systems (LMSs), learning experience platforms (LXPs) or fancy authoring tools.
Did you know that even by investing in a learning management system that costs you $10s of thousands of dollars a year and an authoring tool like Articulate 360 or Adobe Captivate, your Learners may still hate your program?
How do we know?
Hello everyone, Jonny here. As some of you may know, I am a Certified Public Accountant (CPA), and before becoming an entrepreneur full-time, I worked as an IT auditor for PricewaterhouseCoopers.
Like other certifications, in order to keep up with my license, I am required to complete a certain number of hours of training each year. Back in 2015, I was investing in an eLearning program that I not only didn't learn anything from, it actually created work for me with zero return on investment (except for keeping my CPA license).
Fast forward to 2021, I moved on from the program to get my continuing education hours from a more high-impact source for me, but I was curious if the old eLearning program I used had been updated. So I decided to check it out. And guess what?
The eLearning program was now built using Articulate Rise 360! When I saw this, I was so pumped to check it out, so I dove in and started taking one of the courses, but...
Same story, different tool, and our guess is $10s of thousands of dollars later.
Same result. It was the same program. Now it was just mobile responsive and had some different text colors.
Let's just say that just because you have the same basketball shoes Lebron James wears, doesn't mean you are going to be one of the greatest basketball players of all time.
That's where we come in. With our Learner-centric eLearning instructional design process, our attention to detail, and ultimately our collaboration with you on getting your eLearning in your Learners' hands as quickly as possible, you will 3x your return on investment in no time (and never put your Learners to sleep again).
eLearning Instructional Design is the most exclusive service we offer because we not only design and develop your eLearning for you, our clients say we author eLearning 2x faster. And so we can dive in deep and get inside the heads of your Learners, we only work on a select few eLearning Instructional Design projects a year. Here is what you will receive upon working with us:
SCORM Compliant + 100% Ownership
We design eLearnings to be easily integrated into all SCORM-compliant learning management systems. Therefore, when we complete our project together you not only have 100% ownership of what we create, you will receive all of the SCORM files for your LMS.
Authoring Tools
We author everything utilizing either Articulate 360 or Adobe Captivate and maintain our own software licenses, so you don't have to pay for the extra cost. Otherwise, you would be paying an extra $550-$1400/user per year just for the software itself.
Instructional Design Meetings
We will meet virtually throughout the instructional design process, so we can review module design and feedback to better serve you (and your Learners).
Streamlined Feedback
In order to make the eLearning Instructional Design process as painless as possible, we utilize a simple software you will get free access to in order to see multiple versions of the eLearning modules we create and easily provide feedback.
What eLearning Instructional Design can do for your eLearning program, online course, or micro-learning project...
Working with someone that you can hand off the eLearning reigns (and the stress that comes with it) who can build eLearning fast without sacrificing quality and ensuring that Learners are actually engaged is the ultimate goal right?
Exactly right. The problem is it takes a lot more than just the latest and greatest learning management system and authoring tool to create eLearning your Learners absolutely love.
By investing in eLearning Instructional Design you are tapping into more than a decade of knowledge troubleshooting the best way to take what is in your and your subject matter experts' heads and not only create eLearning, but design eLearning modules that your Learners actually engage with and learn from.
Here are some more of the benefits you can expect:
eLearning done for you and more importantly your Learners
Grab your Learners' attention from the get-go without having to invest in an expensive LMS

Get rid of paragraph upon paragraph of uninspiring text

to make room for

interactivity and gamification

Organize your ideas, SMEs, team members, and student feedback

into a common vision serving your Learners

Integrate and maintain a sustainable eLearning development process now and for future eLearning instructional design so you always know how to get started
Create value for your Learners faster by producing 2x the amount of eLearning in your timeline

Save money and time by reducing eLearning module lengths by 33%

and

skyrocket eLearning completion rates
Here is how our eLearning done for you process works:
Kick-Off Meeting
We will meet with you and your team to review the following:
Project timeline

Schedule instructional design meetings

Streamlined eLearning module feedback process

Access to project assets
Outline & Author
Even if you already have your eLearning outlined and scripted, we have a simple process to outline and give you a feel for how your eLearning will be broken down before we author it. Then we will design a 1st draft of a beautiful interactive eLearning program for continuous Learner engagement.
Feedback & Finalize
We get it, providing feedback can be a drag and if there isn't a streamlined way to do it, which is why we have a process and use software that makes it extremely easy to provide as detailed or simplistic feedback as you want. Then, we implement your feedback and finalize your eLearning for a final feedback review.
SCORM File Delivery
Once we complete your eLearning so you and your Learners absolutely love it, we deliver the finished SCORM files with the settings you need for your learning management system or other eLearning software. And remember you have 100% ownership of your eLearning! Super exciting, we know.
Here is one of our favorite eLearning Instructional Design Case Studies:
ScaledAgile
11 months, 3x eLearning programs, and 25x micro-learnings later...
Over a period of 11 months, we worked with two different teams at ScaledAgile on 3 different eLearning programs. ScaledAgile had the subject matter expertise but lacked a structured system to take their knowledge and seamlessly transform it into eLearning. That's where we came in. And when we successfully completed our first project together, they hired us again. Then again. And again. Yes, 4 projects within a year timespan. And we are gearing up for another year of projects as you read this. Check out what Christie said about working with us in her email.
Here's a sample of one of the micro-learning modules we created for ScaledAgile utilizing Articulate 360:
Don't take our word for it, watch these 2 videos to see what Christie and Michelle both said about us:
Is eLearning Instructional Design a good fit for your business?
We understand that eLearning Instructional Design is not the best fit for everyone. We care about your success, and if we are not the right partner for you, we want you to go in the direction that is best for you and your business. Here are the key requirements that you and your business need to have to be a good fit:
You must be earning top-line annual revenue of at least $1 million/year
You must have a budget of at least $7,500 for each hour of eLearning Instructional Design (This could be an entire mini-course)
You must be committed to providing us feedback in a timely manner so we can serve you and your Learners as quickly as possible
You must take responsibility and communicate any challenges that you are having throughout the process
If you and your business meet these requirements and are ready to invest in eLearning Instructional Design, submit your request below.
eLearning Instructional Design is a value-based investment, which means that you will be investing $7,500 for each finished hour of eLearning because you value the results you are helping your Learners achieve.
If this is you, take a moment right now to fill out the short eLearning request form below, and once we review it, we'll contact you to set up a 30-minute strategy call.
So, you may be wondering, "how many hours of eLearning Instructional Design do I need for my eLearning program?"
That is a great question that we get all the time! We have had many of our clients in your shoes where they didn't know exactly how many hours they should purchase for their eLearning Program.
To start, they either bought 1 hour, 3 hours, or 5 hours of content.
You may be asking, "What happens if I purchase 1 hour of content but end up needing more?"
No sweat! For example, if you purchased 1 hour and end up needing 4 hours, we will create the additional 3 hours and price it accordingly, without skipping a beat.
You may also be wondering, "What happens if I purchase 5 hours of content but end up needing 3 hours?"
We got your back! Whatever hours were not needed in the end, we will refund you. In this case, we would refund you the dollar amount equal to 2 hours of content.
Ok, now that you know how many hours you should purchase, let's talk about how each hour will be broken into eLearning modules.
When we start working with you, we will discover what the length of each eLearning module should be and design the eLearning accordingly. We most commonly see our clients break down an hour of content like this:
6 eLearning modules that are 10 minutes long

4 eLearning modules that are 15 minutes long

3 eLearning modules that are 20 minutes long

2 eLearning modules that are 30 minutes long
"Great! But does this mean that all of my eLearning modules have to be the same length?"
No, not at all! We mix and match all the time based on how much time a topic needs.
Here is how it could look:
Client Example 1: 1x hour of eLearning

3x 10-minute modules (30 minutes) + 2x 15-minute modules (30 minutes) = 1x hour (60 minutes)

In this example, our client purchased 1 hour of eLearning equaling 5 modules

Client Example 2: 3x hours of eLearning

1x 30-minute module (30 minutes) + 2x 20-minute modules (40 minutes) + 4x 15-minute modules (60 minutes) + 5x 10-minute modules (50 minutes) = 3x hours (180 minutes)

In this example, our client purchased 3 hours of eLearning equaling 12 modules

Client Example 3: 5x hours of eLearning

2x 30-minute modules (60 minutes) + 3x 20-minute modules (60 minutes) + 6x 15-minute modules (90 minutes) + 9x 10-minute modules (90 minutes) = 5x hours (300 minutes)

In this example, our client purchased 5 hours of eLearning equaling 20 modules
As you can see, there are many different ways to break down 1 or more hours of eLearning! Unless you already know how long you want your eLearning modules to be, it is not your job to figure that out right now. This is something that we can do together.
"Awesome, so I am ready to get started, what is your process?"
Let's go! We like to keep things very simple, so the next step is to schedule a Kick-Off meeting with you and your team. In our Kick-Off meeting we will do the following:
Formalize the eLearning Instructional Design timeline

Schedule "instructional design meetings" throughout the process

Go through our "streamlined feedback" process so it is seamless for you

Get access to any branding, graphics, and video footage needed from you for the project
The project will then progress like this:
Kick-off meeting

Outline & author

Feedback & finalization

SCORM file delivery (and remember you have 100% ownership of them)
So, go ahead and fill out the form below and if you still aren't sure how many hours you need, input 1 hour to start.
We are looking forward to meeting you soon!
Submit eLearning Instructional Design Request
Submit your information below, and we'll review your request and timeline. We will reach out to you to schedule a 30-minute call to discuss the next steps.
eLearning Instructional Design is the most exclusive service we offer because we not only design and develop your eLearning for you, our clients say we author eLearning 2x faster. And so we can dive in deep and get inside the heads of your Learners, we only work on a select few eLearning Instructional Design projects a year.
We look forward to the potential opportunity to design your eLearning.
Cheers!
Jonny, Hector & the eLearning Partners™ Team